Horseheads Jubilee Foods
Recipes
https://horseheadsjubilee.com/Recipes/Detail/8722/Slow_Cooker_Pot_Roast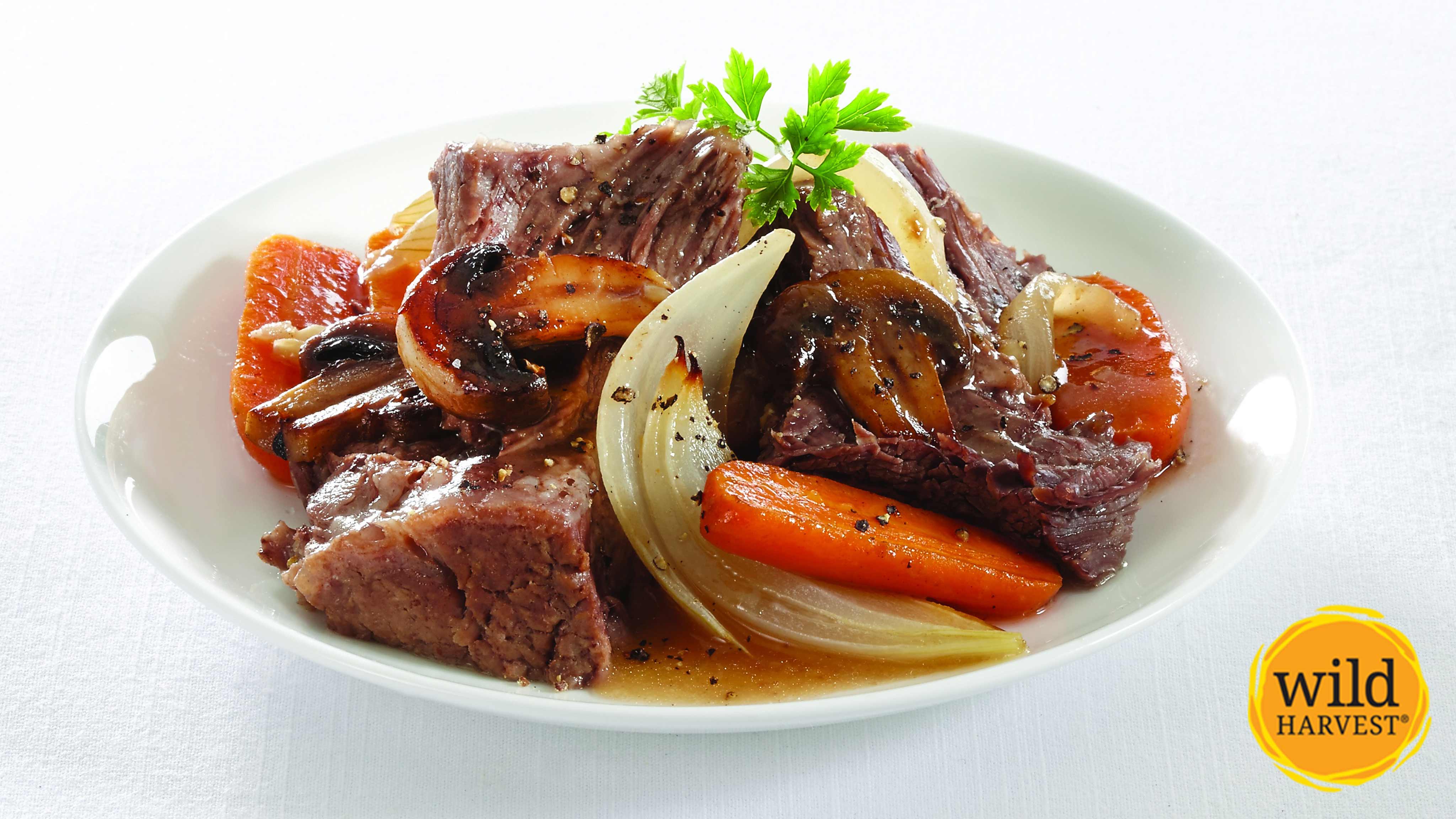 Slow Cooker Pot Roast
Yield: 8 servings
Preparation Time: and Active Time: 15 min; Total: 8 hours 14 min
Ingredients
4-5
pound

boneless chuck pot roast

2
teaspoons

salt

1
teaspoon

Wild Harvest Organic Dried Thyme Leaves

2
tablespoons

Wild Harvest Canola Oil

2
cups

Wild Harvest Organic Beef Broth

1
pound

Wild Harvest Organic Whole Carrots, peeled and cut into 2-inch chunks

2
pounds

Wild Harvest Organic Yukon Gold Potatoes, rinsed and cut into 2-inch chunks

2
cloves

garlic, minced

2

Wild Harvest Organic Dried Bay Leaves

2
tablespoons

Essential Everyday Cornstarch

2
tablespoons

cold water

1
bunch

Wild Harvest Organic Parsley, chopped
Add To

Directions:
Season the beef with salt, pepper and dried thyme.

In a large non-stick skillet, heat canola oil over medium-high heat.

Lay the roast in the pan and cook for 2-3 minutes per side until all sides are brown.

Remove roast from the saute pan and place in the center of a slow cooker. Add beef broth, carrots, potatoes, garlic and bay leaf. Cover and cook on low for 8-10 hours or on high for 5-6 hours.

Remove beef from the slow cooker, cover loosely with foil and set aside. Mix together cornstarch and water and add to the slow cooker to thicken sauce.

Pour gravy over the meat and garnish with chopped parsley.
Recipe and photo used with permission from Wild Harvest and Essential Everyday
Please note that some ingredients and brands may not be available in every store.
Horseheads Jubilee Foods
Recipes
https://horseheadsjubilee.com/Recipes/Detail/8722/